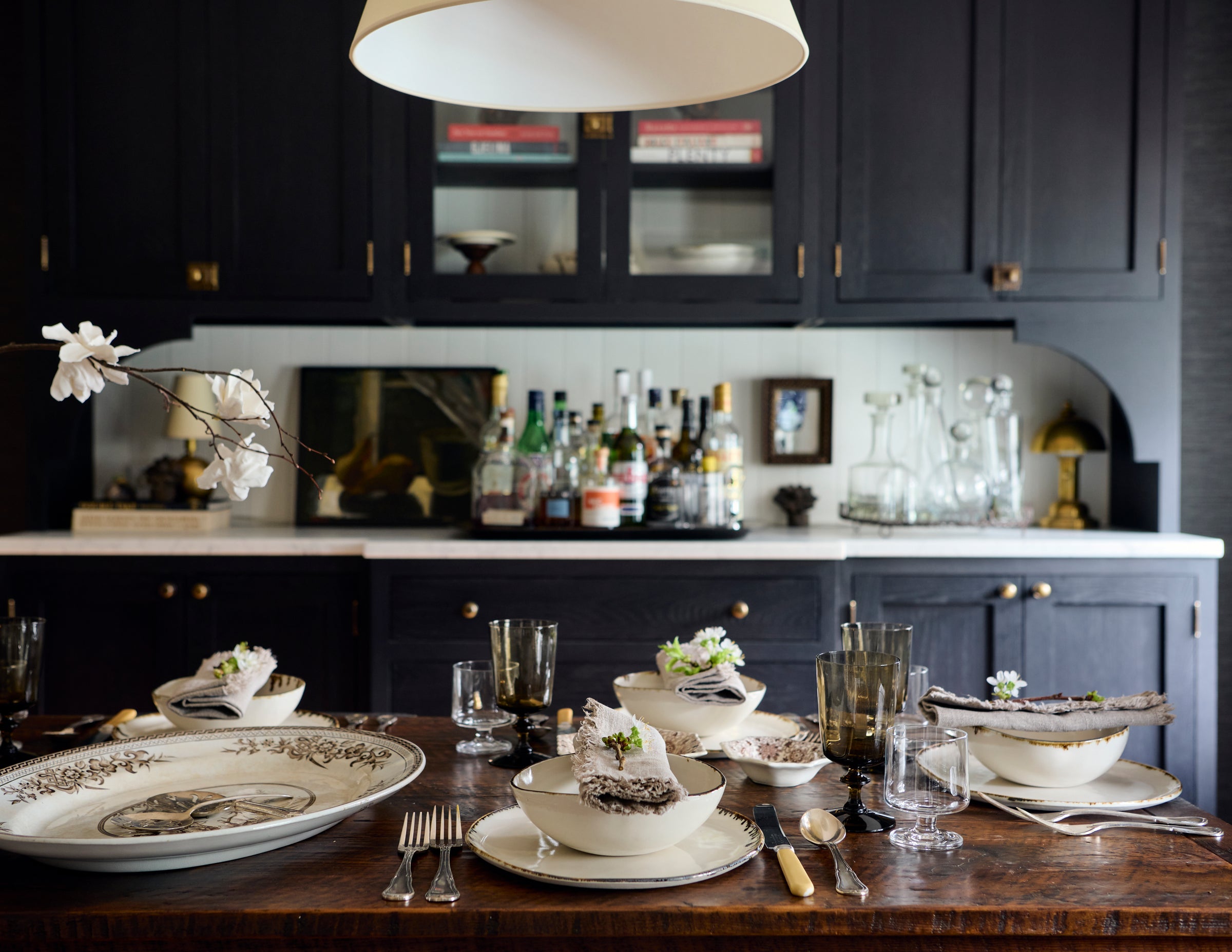 Robin Klein + John Gruen:
Have A Seat At My Table
July 28, 2023
Photography: John Gruen
Styling: Robin Klein
Music: Ben Gruen
This is such a special Tastemakers' Table experience, as Danny and I had the privilege of being dinner guests for this captivating story. We were invited to the beautiful home of interior designer Robin Klein of Antar Klein Design, nestled in the charming town of Old Chatham, NY. We were joined by Robin's design partner Debbie Antar, stylist Anna Molvik and her husband Sean. Through her expert eye for design and passion for cooking, Robin creates an inviting atmosphere that leaves a lasting impression. It was a delightful evening that not only treated our taste buds but also provided valuable insights into the art of effortless and stylish entertaining.
Here's what I learned.
DBO:  When you're designing spaces for entertaining friends and family, how do you infuse your sense of warmth and hospitality? Are there any particular design elements or strategies you rely on to create an inviting atmosphere?
RK:  My love for cooking goes way back. As a child/teen, while most kids threw parties, I was teaching myself how to make yeasted breads! That love for cooking remains to this day. Infusing warmth and hospitality into my designs for entertaining is all about preparation and confidence. I believe in preparing as much as possible before guests arrive so that I can join them from the start. A little pre-gaming always helps too!
DBO:  Your kitchen isn't huge, but it surely flows as if it was made for entertaining. What design features or layout choices do you think really enhance the cooking hosting experience?
RK:   I've turned out dinners for 12-15 out of a 6x8 NYC kitchen, so any kitchen after that doesn't seem challenging. The key to effortless entertaining is preparation and confidence, as mentioned before. But as for design features, I believe in creating a flowing space where everything is within reach. This allows me to navigate and cook comfortably. When it comes to layout choices, efficiency is key. By organizing your kitchen essentials smartly, you can create a seamless cooking and hosting experience.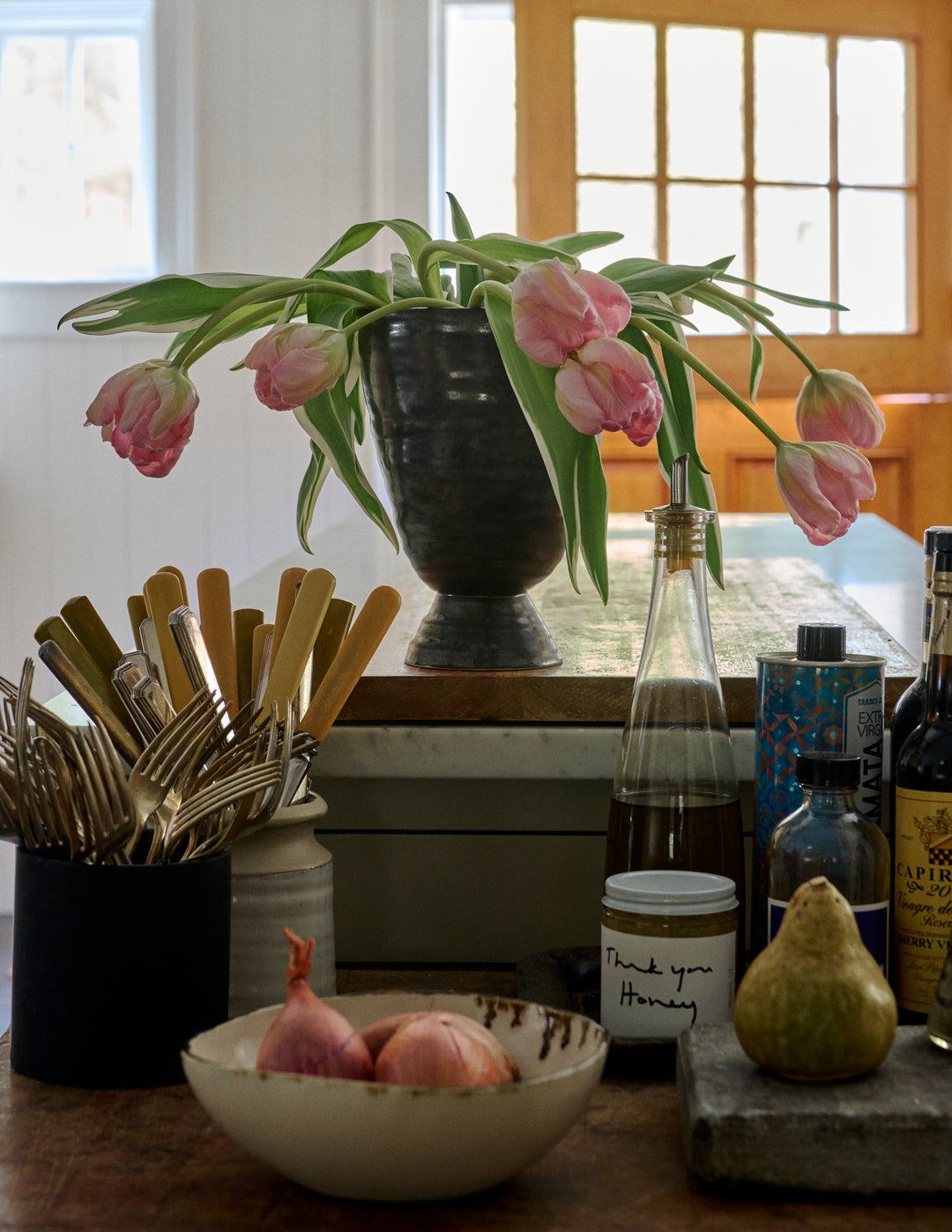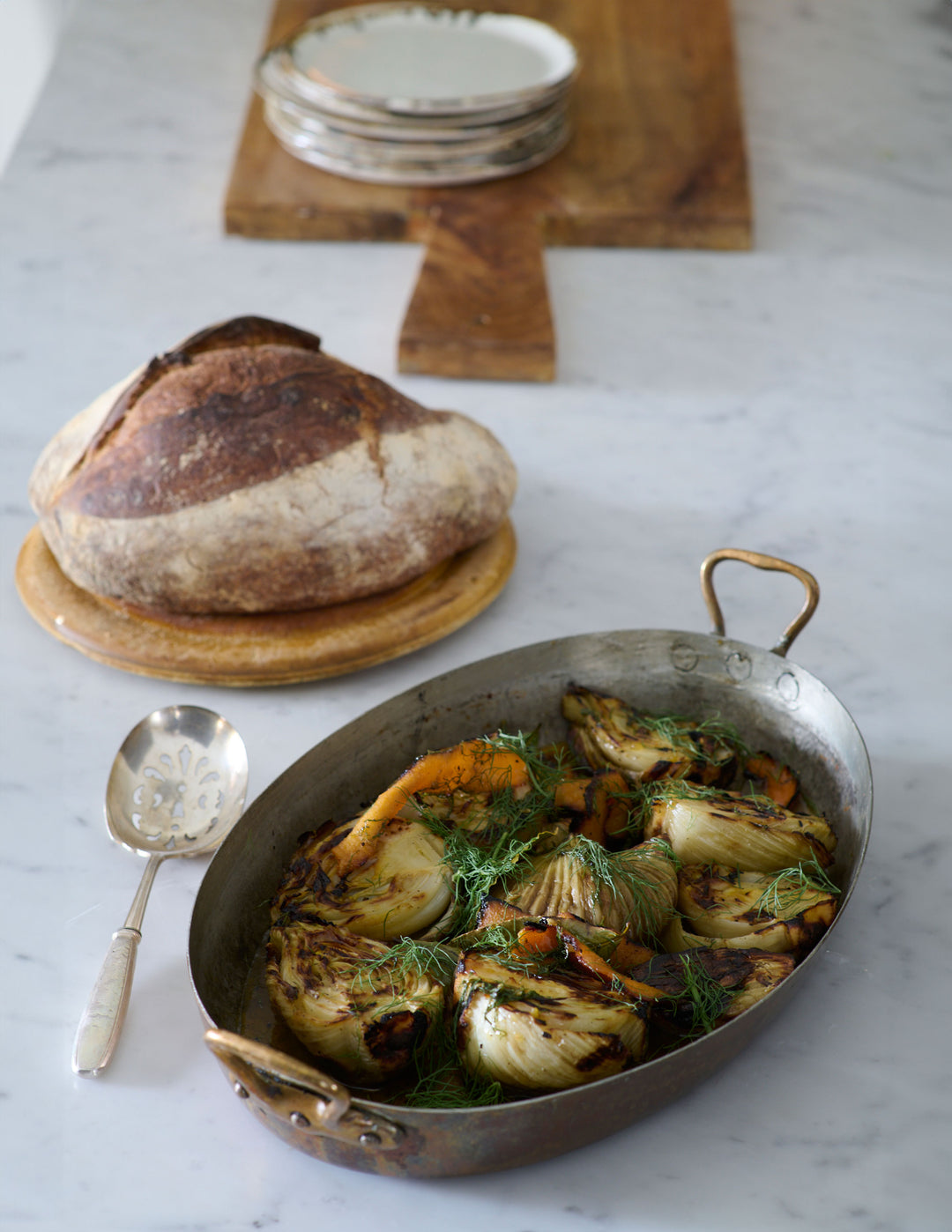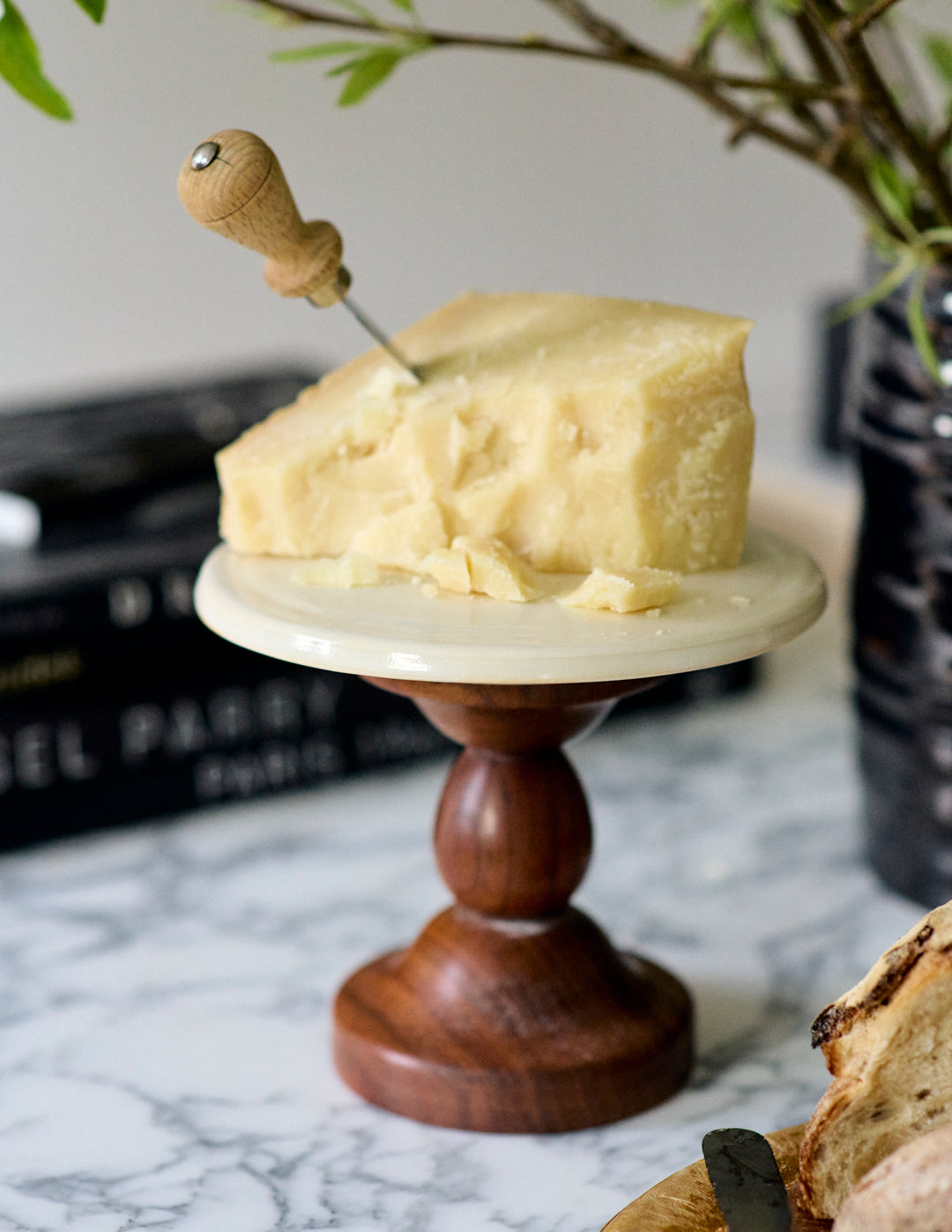 Limited Edition Cookie Stand
DBO:   Your dinner was so incredibly delicious. How did you put together your menu? Also, you had so much fun yourself during dinner. Any advice on making such an elaborate dinner feel so comfortable that it seemed as though you just threw it together, no stress at all? And hand-rolled pasta, really?
RK: Most importantly, the guest list sets the tone for an intimate dinner. A cohesive group makes for a smooth evening. Keeping the conversation flowing and the food abundant guarantees success. As for the menu, I spend a lot of time planning. For this gathering, I used the newly released cookbook from Via Carota, my go-to restaurant when I'm in New York, to recreate some of my favorite dishes. And yes, hand-rolling pasta was a therapeutic process. Crank up the music and start rolling!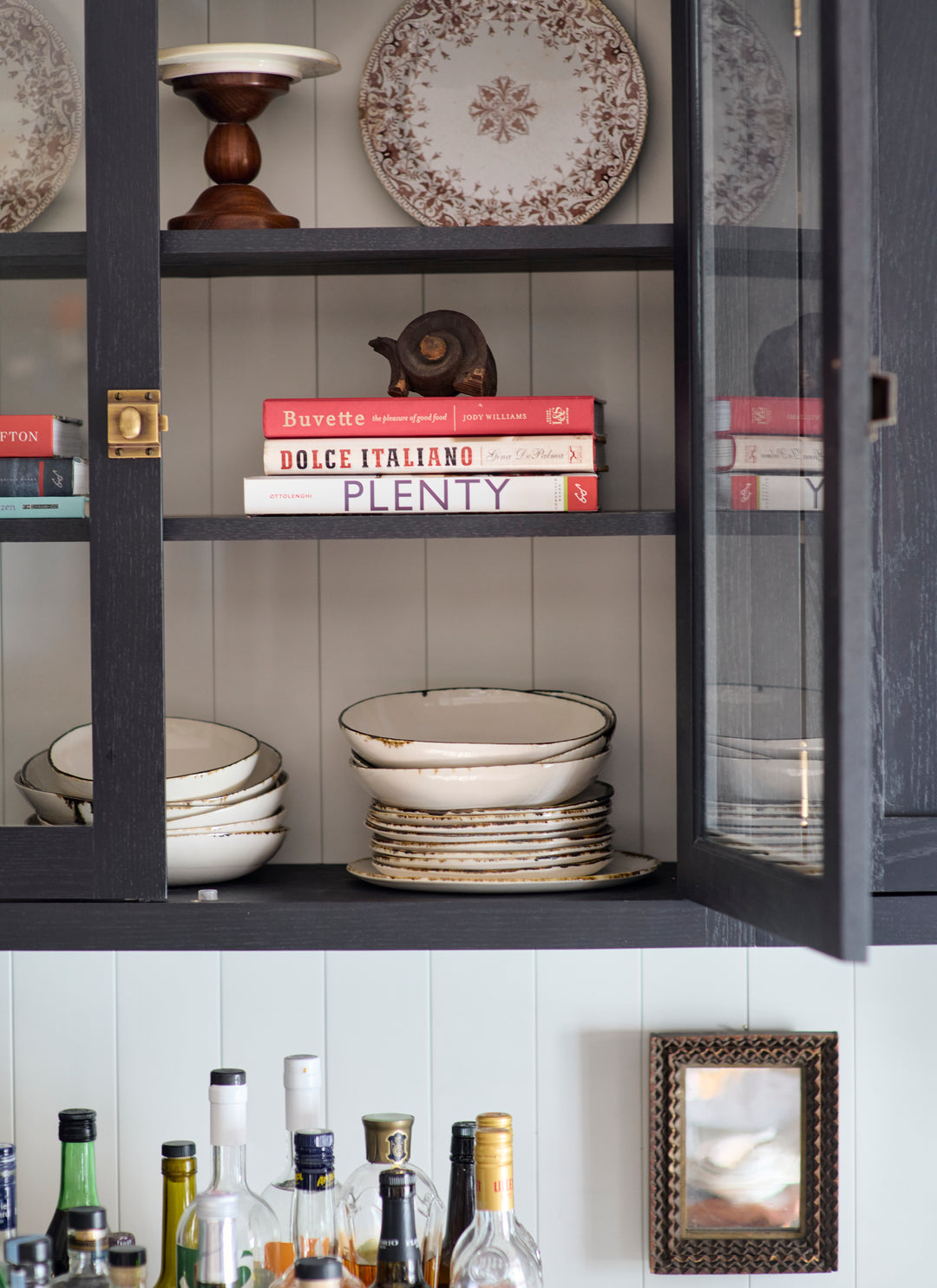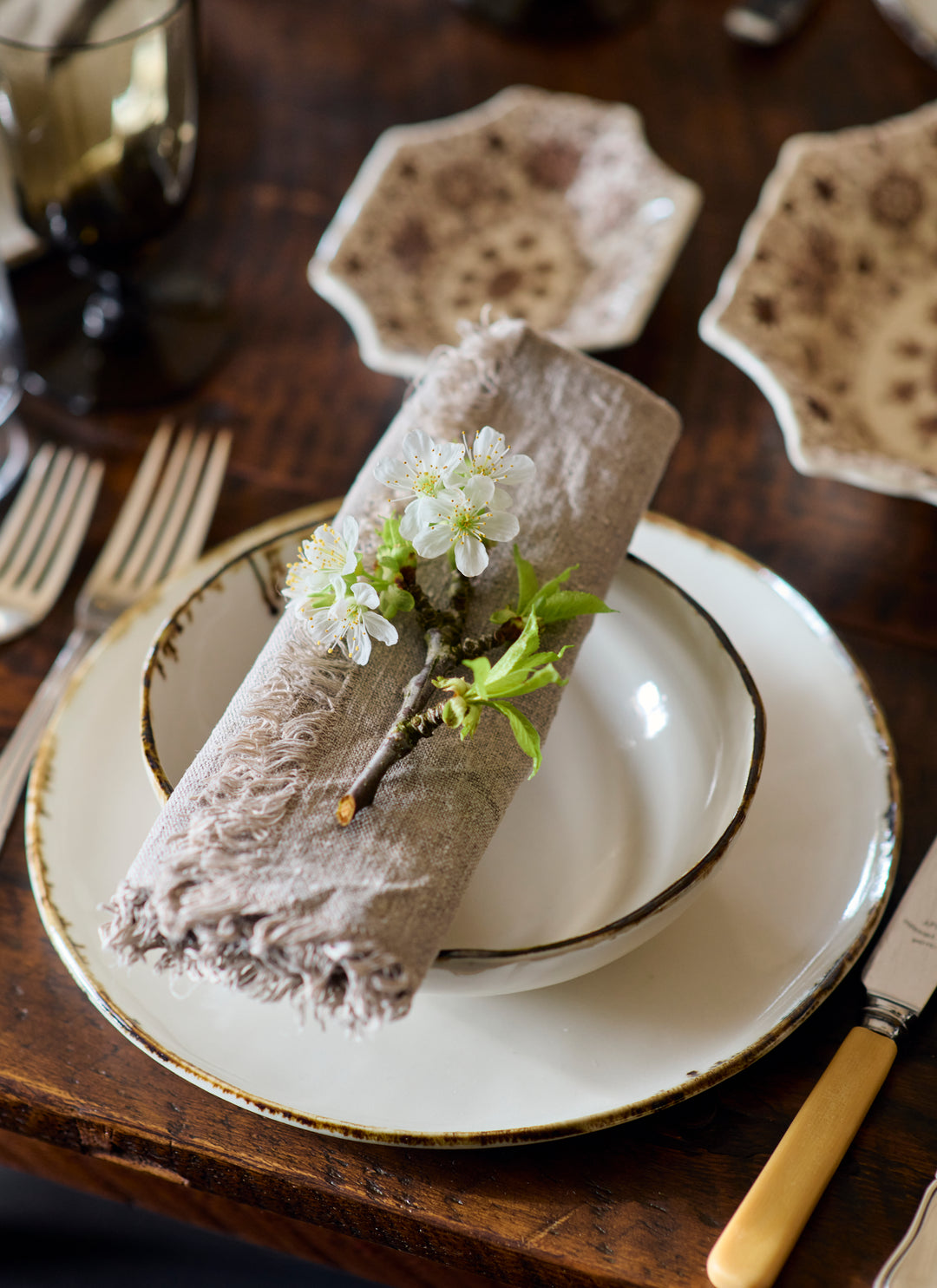 DBO:  Setting the table is an art form in itself. You chose our new Bare Drip plates and bowls along with some Bare serving pieces. Tell us how you mixed in items from your collection to set a table that reflects your style.
RK: Using beautiful dishes, such as the new Bare Drip collection, was a perfect complement to my collection of antique brown and white Transferware. I also incorporated my mid-century vintage amber wine glasses, which added a touch of elegance. Mixing different pieces creates a unique table setting that reflects my personal style—a blend of modern and vintage aesthetics.
DBO: The light in your home is just lovely. I noticed how you made use of the natural light. Any tips on setting the mood with lighting for dining?
RK: Ambience plays a crucial role in setting the mood for a memorable dining experience. In my dining room design, I prefer a moody and dark atmosphere. To create coziness and intimacy, I like to use table lamps wherever possible in the kitchen and dining room. Soft, warm lighting adds a touch of magic and sets the perfect stage for an enchanting evening.
DBO: Your home is located in beautiful Old Chatham in the Hudson Valley. What local purveyors, farmers, etc., would you recommend for incorporating local specialties into your dinner party?
RK: I'm fortunate to be surrounded by an abundance of local purveyors in the Hudson Valley. For the best salad greens, I recommend visiting Morningstar Farm in Claverack and Farmstead at the Kinderhook Farmers Market. Hadley at Talbott and Arding in Hudson serves up the finest cheeses with a smile. Bartlett House is a must for bread, and Chatham Berry Farm offers a delightful selection of fish. By regularly exploring these local gems and frequenting the Hudson, Chatham, and Kinderhook farmers markets, I gain inspiration for my menus based on what's fresh and in season.
DBO: We both are big-time music lovers. The right music sets just the right mood. When designing spaces, do you work with your clients to integrate sound systems into their homes? And please do share your playlist.
RK: Music is a passion of mine, and it plays a crucial role in my preparation process. I'm excited to see more of our clients integrating turntables into our designs. The perfect playlist can truly elevate the ambiance. Stay tuned, as I'll be sharing my curated playlist that sets the stage for delightful dining experiences.
Playlist
Have A Seat At My Table
John Gruen and Robin Klein invite you to dinner. This is what will keep the party going.
Playlist by John & Robin
Listen on Spotify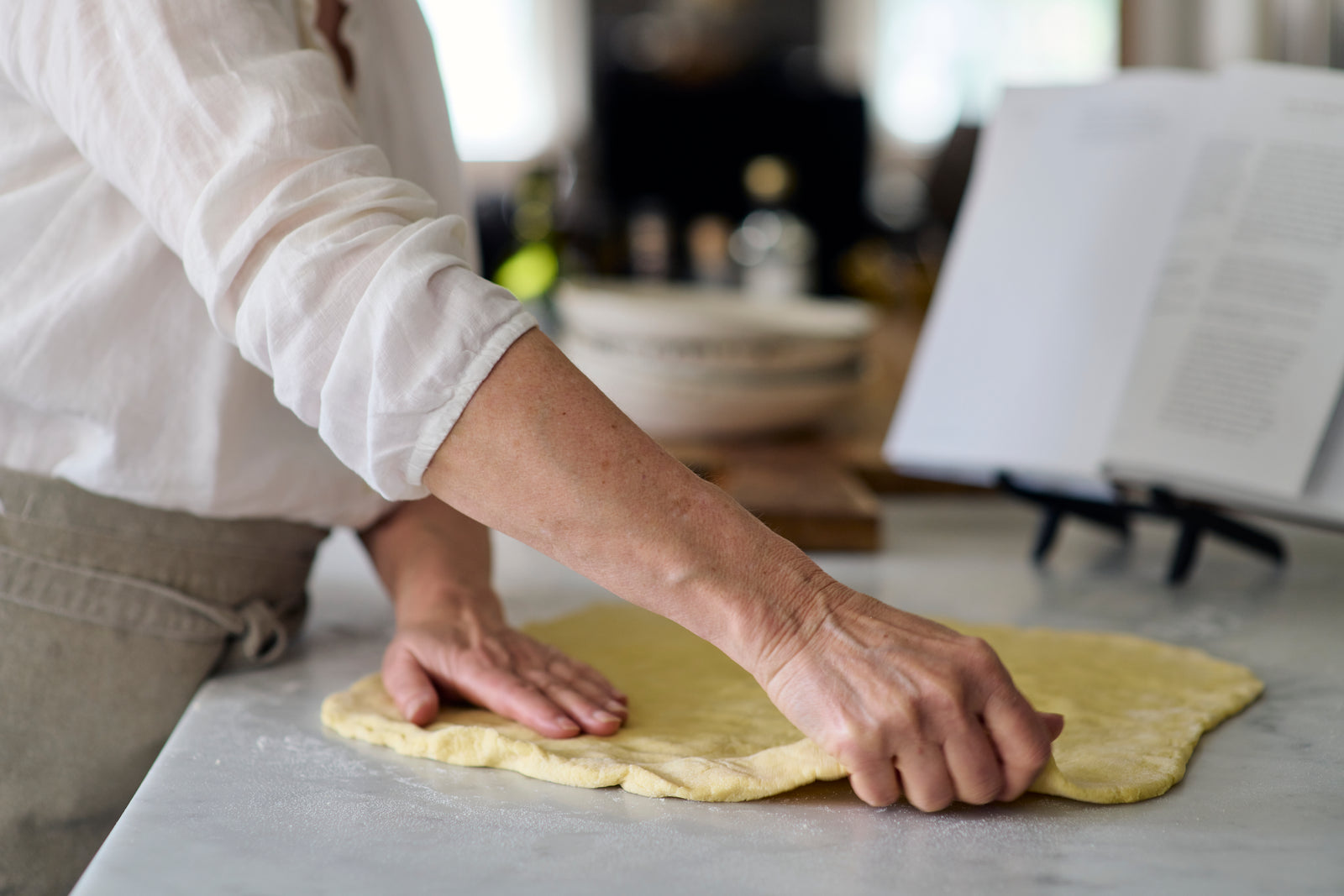 Pici (Hand-Rolled Thick Spaghetti)
READ: 'Via Carota' is Cooks Without Borders' Cookbook of the Year
NOTE: The original recipe in Via Carota gives a range of time the dough can rest, from one hour to 24 hours. It does not say whether letting it rest overnight would mean that it needs to be wrapped and refrigerated. It also offers instructions for making the dough using a food processor or stand mixer, methods we have not tested. We increased the original recipe by 25%, as the original Via Carota version did not yield enough for the amount of duck ragù used to sauce it.
Makes 17.5 ounces / 500 grams (enough for 4 servings).
Ingredients
1 1/4 cup / 145 grams 00 flour
1 1/4 cup / 175 grams semolina
Large pinch of salt
2 1/2 tablespoons / 37.5 ml extra-virgin olive oil
3/4 cup plus 1 tablespoon / 187.5 ml water
Instructions
Put the flour, semolina and salt in a large bowl and whisk it together, then pour it onto a work surface in a mound. Make a deep well in the center of the flour with a fork. Add the olive oil and about 1/3 cup / 80 ml of the water. Use the fork or your fingers to gradually incorporate flour from the inside of the well, mixing from the bottom first in a circular motion. Pour in the remaining water, and gather the mixture into a shaggy dough using a bench scraper and your hands. Pat into a firmdough and scrape the work surface clean.

Work the dough vigorously, kneading and folding it into a ball. Continue kneading until the dough is smooth and elastic, 10-15 minutes. Slightly flatten the ball of dough and place a bowl over it, or wrap it tightly in plastic wrap. Rest the dough at least 1 hour (at room temp).
When you're ready to roll, dust a sheet pan with semolina. Use a knife or bench scraper to cut the dough ball in half; cover one half with a bowl while you work. On a lightly floured work surface, use a rolling pin to roll the dough until you have a sheet about 1/3 inch / 5 mm thick. Don't worry about being exact, you'll be re-shaping them anyway. Use a knife to cut the pasta in short pieces about 1 inch by2 inches / 2.5 by 5 cm.
Roll a piece of pasta between your hands into a short rope, then place it on the board. Place the palms of your hands on top of the pasta rope, and with fingers outstretched, roll the dough back and forth. Work gradually toward the ends to lengthen the dough. Continue rolling and stretching until the rope is thin (the dough will expand when cooked) and about 10 inches / 25 cm long. Don't try to make them perfect; they will be irregular. Lay the strand out on the sheet pan.
Continue with the rest of the dough, sprinkling the pici with semolina to prevent them from sticking together. You can cook them immediately or let them dry until firm.
Robin Klein
Robin Klein began her creative journey in the fashion industry as a buyer for the iconic original Henri Bendel. With her foundation in fashion coupled with her passion for beautiful design she has been successfully working in the interior design field for over twenty five years. Robin is a tastemaker who has a keen eye for detail and an ability to "mix things up." Robins approach to design is a process and a collaboration between the client and the designer. In all of Robin's projects the final result is a design that feels livable and appropriate.
John Gruen
An interiors, still life, and travel photographer, John Gruen studied film during college in Washington DC, and photography at the School of Visual Arts in New York City. His work, featured in numerous books and magazines, is intimate, serene, and honest. He lives and works in Litchfield County, CT.