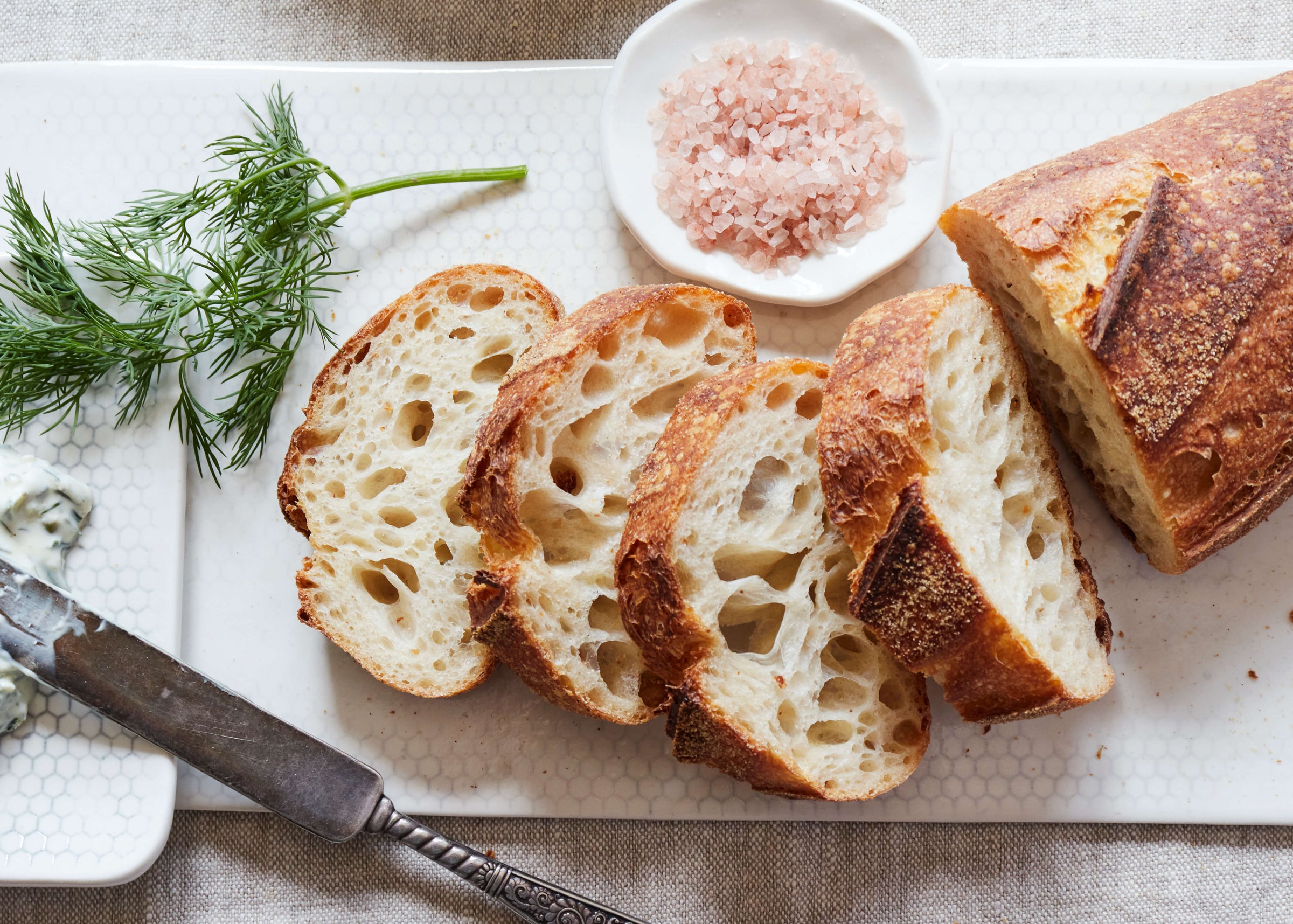 Bourke Street Bakery: An Everyday Luxury
September 21, 2023
Photography: Hallie Burton
Styling: Robin Zachary
Photographer Hallie Burton introduced me to Bourke Street Bakery and I fell in love from afar. When I learned the story of baker, chef and founder of the bakery/cafe, Paul Allam, I felt a commonality I could truly relate to.
"We were born & bred on the other side of the world on a charming, tree-lined street on a now-famous little corner of Bourke Street in Sydney, Australia. We had a big dream to make the food we loved by hand - everything from scratch and to serve damn good coffee. We were chefs who learned to bake and had no clue how to run a business."
After all, DBO Home was launched in a similar manner—a dream to design objects that would bring joy to your home everyday...and we had no clue how to run a business either. Bourke Street opened the doors of their bakery in NoMad (NYC) in May 2019 and they sure are doing something right, both making it through COVID and opening additional locations in Manhattan and Jersey City.  
When I think of Australia, I think of the bands I worked with from down under. The combination of great music and great senses of humor make me a bit partial to Australians, so I took advantage of this one to not only tell us about the bakery/cafe, what it's like to fulfill a dream in NYC and also some musical questions (for my benefit).
Paul, you started your culinary journey as a chef, what redirected you to baking?
I always loved food and cooking and baking was an extension of that. I was one of those kids who came home from school and would bake cakes for my family and neighbors. I was a latch key kid in the 80's - I was pretty free. I'd walk home from school and head to the kitchen. I had a veggie patch too. Growing food was a passion too. When I left high school - I became an apprentice chef straight away. Food was a calling. I never considered anything else. I cheffed for years and would save up and travel as well. Then in one of the restaurants I was working at in my mid-twenties I learnt some bread baking and I fell in love with it. I turned my focus to sourdough.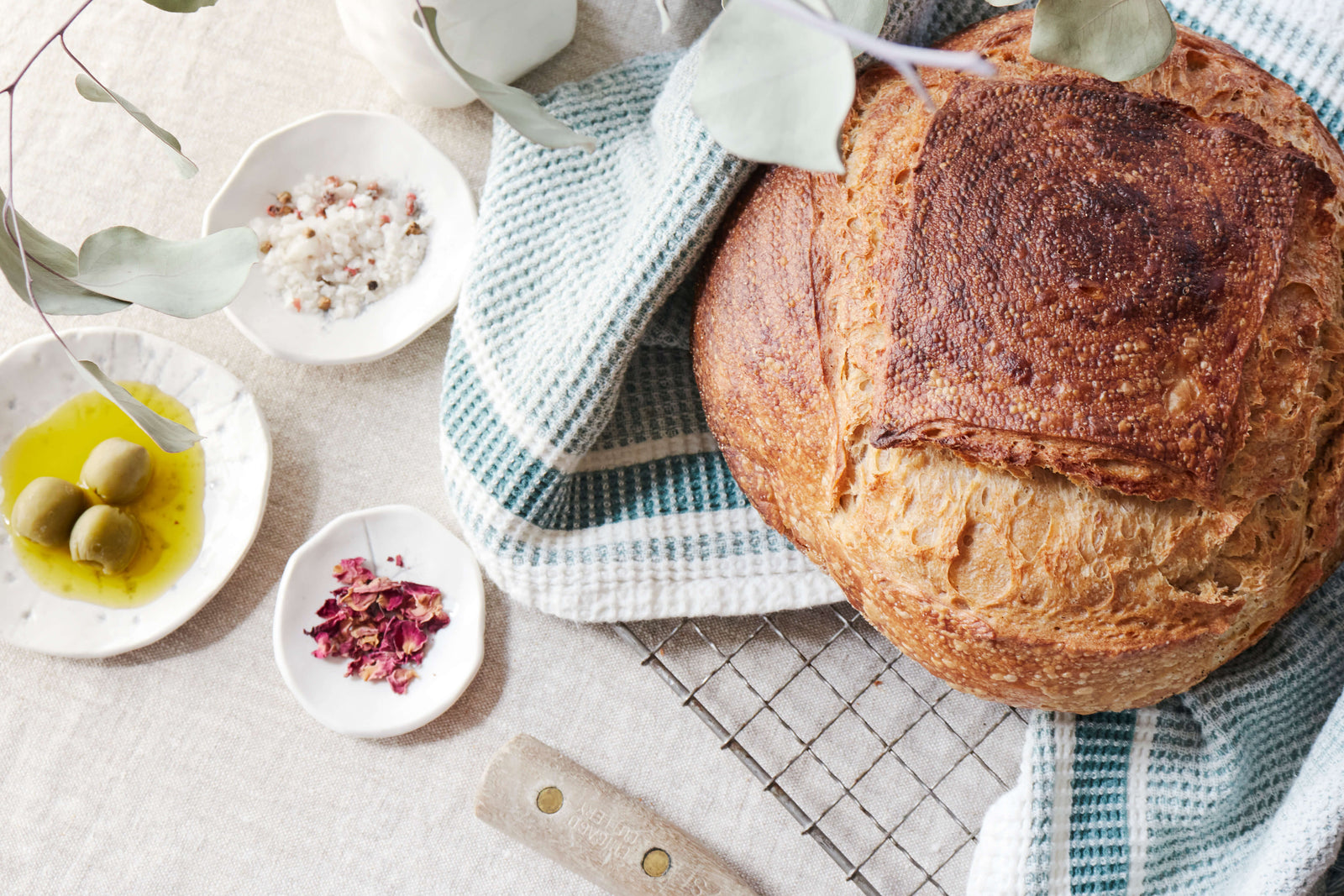 Shown: Vintage DBO Dipping Bowl Set
I'm looking at your gorgeous food and I can't decide what to choose.  I'm one of those customers who needs to be told , what will you recommend to me?
Depends on the time of day! Bakeries are always irresistible first thing in the morning… when our pastries are fresh out of the oven & flaky perfection. Our quiches are warm and wholesome. When our almond croissant melts in your mouth. When the egg in our NY cult favorite the shakshuka egg Danish is still steaming & gooey in the middle. Our sourdough is so bouncy and fresh. But you can't leave without trying our iconic handmade Classic Aussie pie and our pork & fennel sausage rolls. An Aussie bakery staple, from humble beginnings, elevated to tastemaker heights in NYC. Everything is handmade on site at our NoMad bakery, from our pastry to our jams to our old school lemonade. We make real food the old fashioned way.
What makes a classic Aussie Meat Pie?
Ours is made with premium brisket beef with herbs and vegetables to make the most mouthwatering slow-cooked rich beef gravy filling. Two types of golden handmade pastry encase this savory beef sensation. To make it completely authentic squeeze a dollop of house-made tomato ketchup on top! This is comfort food, as Aussie as you can get.
Your Organic Whole Wheat Sourdough looks like the bread dreams are made of. Please tell our community what's the big fuss with sourdough.
Bourke Street's organic levain (also known as a starter or culture) is made of flour, water & a whole lot of naturally occurring wild yeast & good bacteria. We add it to all our doughs, leave it to ferment nice and slow before baking. It's naturally leavened, so gentler on your tummy (low GI) – creating a slightly chewy, deliciously bouncy bread & it tastes amazing! Our levain is called "Frank" he's still  going strong – he came all the way from Sydney to NYC  (don't tell customs!) and has helped us bake all the delicious bread to come out of the bakery since we opened in NYC in May 2019.
And in cake questions, how do you make a sweet treat like the Orange & Almond Cake with Lemon Icing & Edible Flowers without oil or butter? That just seems like magic. Also, do you ship to Connecticut?
This simple, delicious cake is made with just a handful of ingredients; almond meal, eggs, whole oranges and a hint of sugar for sweetness. There is no oil or butter in the cake at all. It's zesty, light, deliciously moist and perfect for any time of day. We boil whole oranges (skins & all) and blitz them up altogether. The moisture and flavor from the orange peel creates the most magnificent texture and taste. The ultimate delicious pleasure. And it keeps beautifully for days. People have loved this cake since day one – its had a few iterations and we're so proud of our most current version – decorated with (vegan!) lemon frosting and edible flowers.
What things do you love about NYC you didn't have in Sydney?  And what things do you love about Sydney you just can't find in NYC?
NYC is sooo much busier especially at night. I love the energy and the non stop activity, the can do attitude, how welcoming, friendly and curious New Yorkers are in general. I love not having to drive! It feels like the whole world is here and there is so much possibility. Sydney is at the end of the earth that's part of its charm - you feel more sun off from the troubles of the world. It definitely has more natural beauty - so many different beaches and picnic spots.  It's also an early morning city - it always blows my mind when I fly in from NYC how breakfast spots are full at 7am and people have already been for a run and swim by then!
It's the 6th Avenue Food Street Fair, what are you eating?
I'm probably having a fresh lemonade and the hottest jerk chicken I can find.
Is cooking at home a family affair?
Yes everyone pitches in...kids peeling garlic, setting the table, emptying the dishwasher, that kind of thing, but when I'm home I tend to do the cooking. I was a chef for so many years, so I tend to take over - it is a way for me to relax too as well as feed my brood.
What does everyday luxury mean to you?
This might sound really corny but Bourke Street Bakery's that for me...fresh handmade sourdough loaves, beautiful pastries, good coffee everything made fresh daily, a place you want to to because you might see a friend or a friendly face...I love the simplicity of these rituals and it is a kind of daily luxury to visit your neighborhood bakery cafe.
10 Top 3 Australian bands ….go! 
The Go-Betweens, Tame Impala, Gang of Youths
Have you ever been to the big day out?
Yeah multiple times back in the day,  I saw Sonic Youth one year. I saw Queens of The Stone Age and Iggy Pop. Love a day time festival!
Would you be so kind to share a favorite home cooking recipe with us?
Our now famous lamb, almond & harissa sausage roll (made with Australian lamb! We source the best imported Aussie lamb we can find over here – it just tastes better!) was featured in NY Times Cooking. If it's good enough for Melissa Clark….!
Bourke Street Bakery
We were born & bred on the other side of the world on a charming, tree-lined street on a now-famous little corner of Bourke Street in Sydney, Australia. We had a big dream to make the food we loved by hand - everything from scratch and to serve damn good coffee. We were chefs who learned to bake and had no clue how to run a business. We'd spent years traveling, eating, cheffing and catching the odd wave. Lucky for us, people liked what we made, that was over 15 years ago now.  We took our time, always honoring good produce, strong flavors and artisan baking traditions. This is the first Bourke Street Bakery outside of Oz and YES like many of you, we too had a dream to move to the Big Apple and be surrounded by food & coffee-crazed, passionate people.
We opened the doors to our bakery in NoMad in May 2019, and what a ride it's been so far! Covid turned us upside down but we're still here making and baking real food the old-fashioned way. In fact, we've doubled down on our obsession with NYC and opened up a few more locations. We can't wait to see you in the bakery soon!
Paul Allam
baker, chef, founder
Hallie Burton
Hallie is a lifestyle photographer and visual story teller with over 20+ years of experience shooting for editorial and advertising clients all over the world. She holds a BA in photography from The University of Sydney, Sydney, Australia. Her other creative output includes Cooking, Peloton, her family and her daughter's fencing tournaments.
hallieburton.com | @hallieburton + @work.spacestudio + @foodmakersny
Robin Zachary
Robin Zachary is a New York based prop stylist and creative director for over 20+ years, a styling educator and author of the book STYLING BEYOND INSTAGRAM. She is passionate about vintage collecting, shopping and being surrounded by flowers as much as possible. Her clients include national brands, magazines and social media accounts. She mentors stylists entering the field through The Prop Styling Experience and spends her free time harmonizing and playing guitar with her husband and poodle.