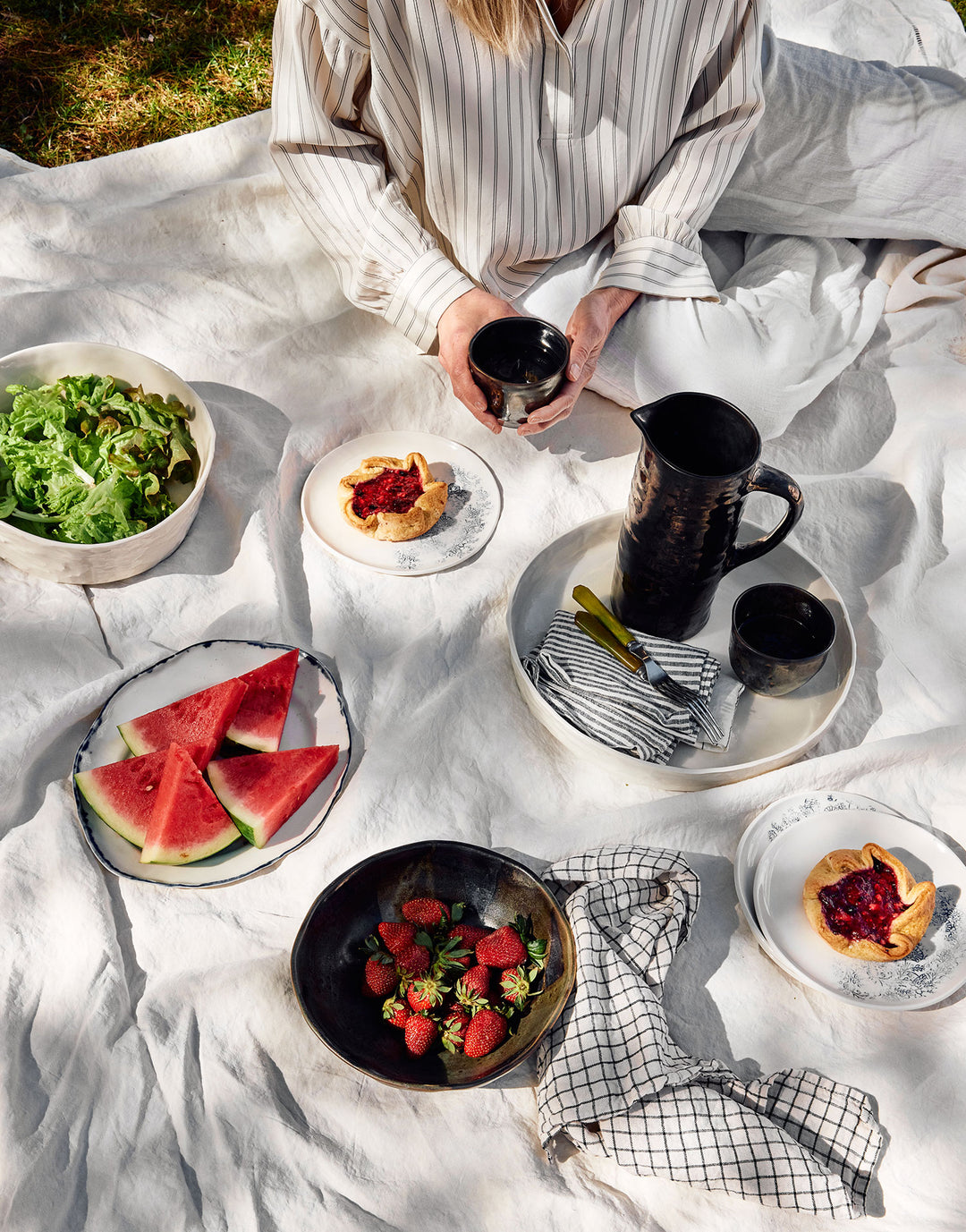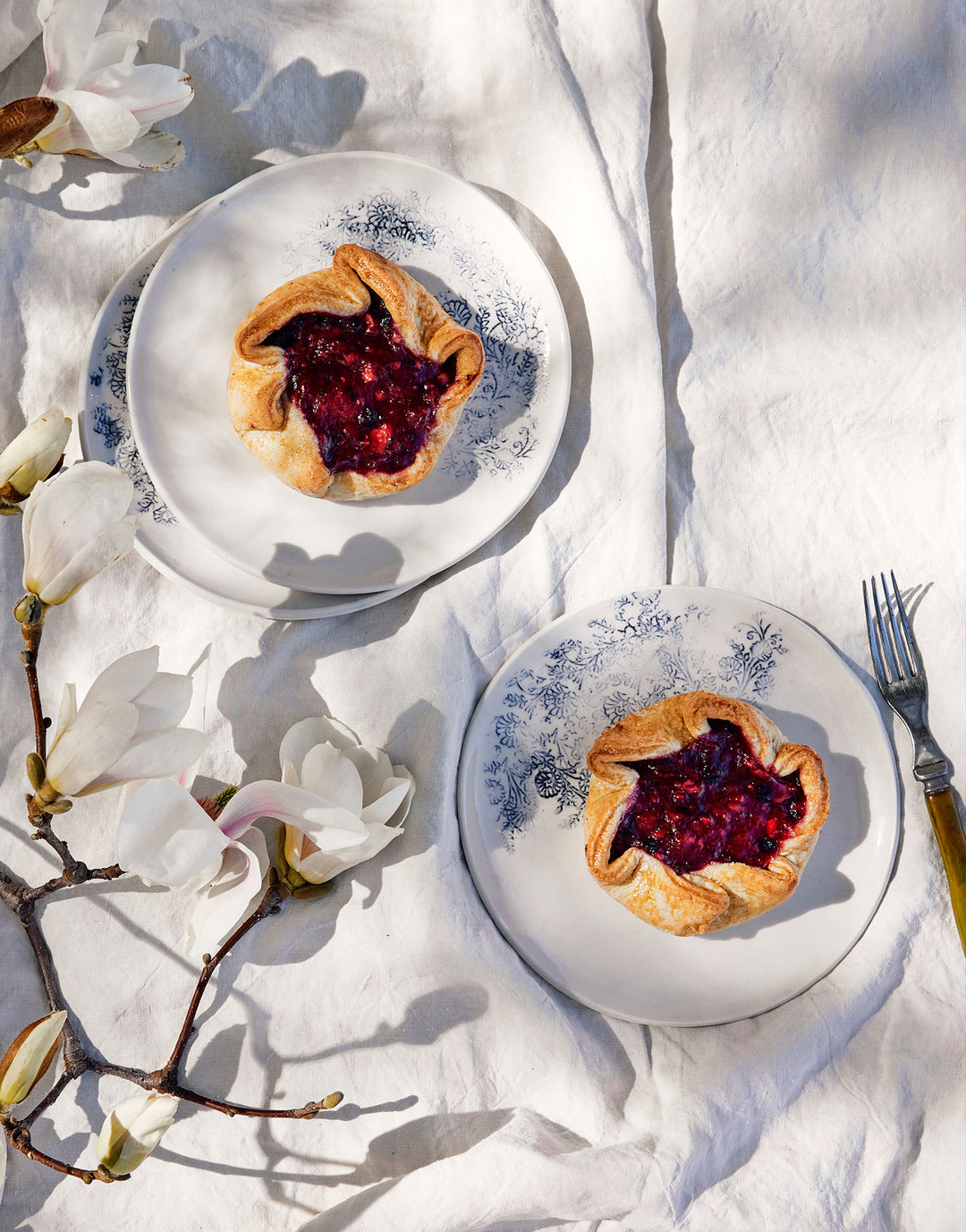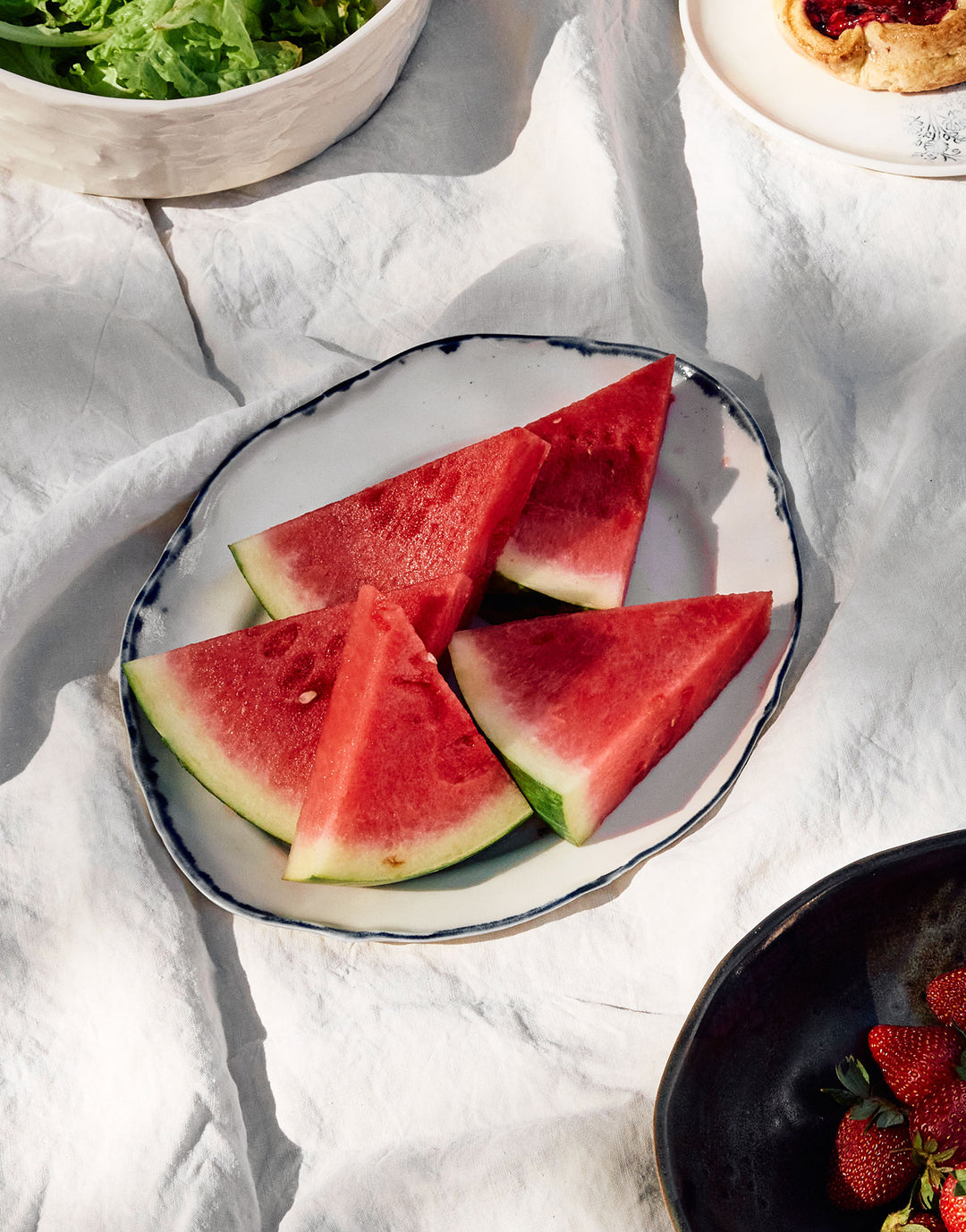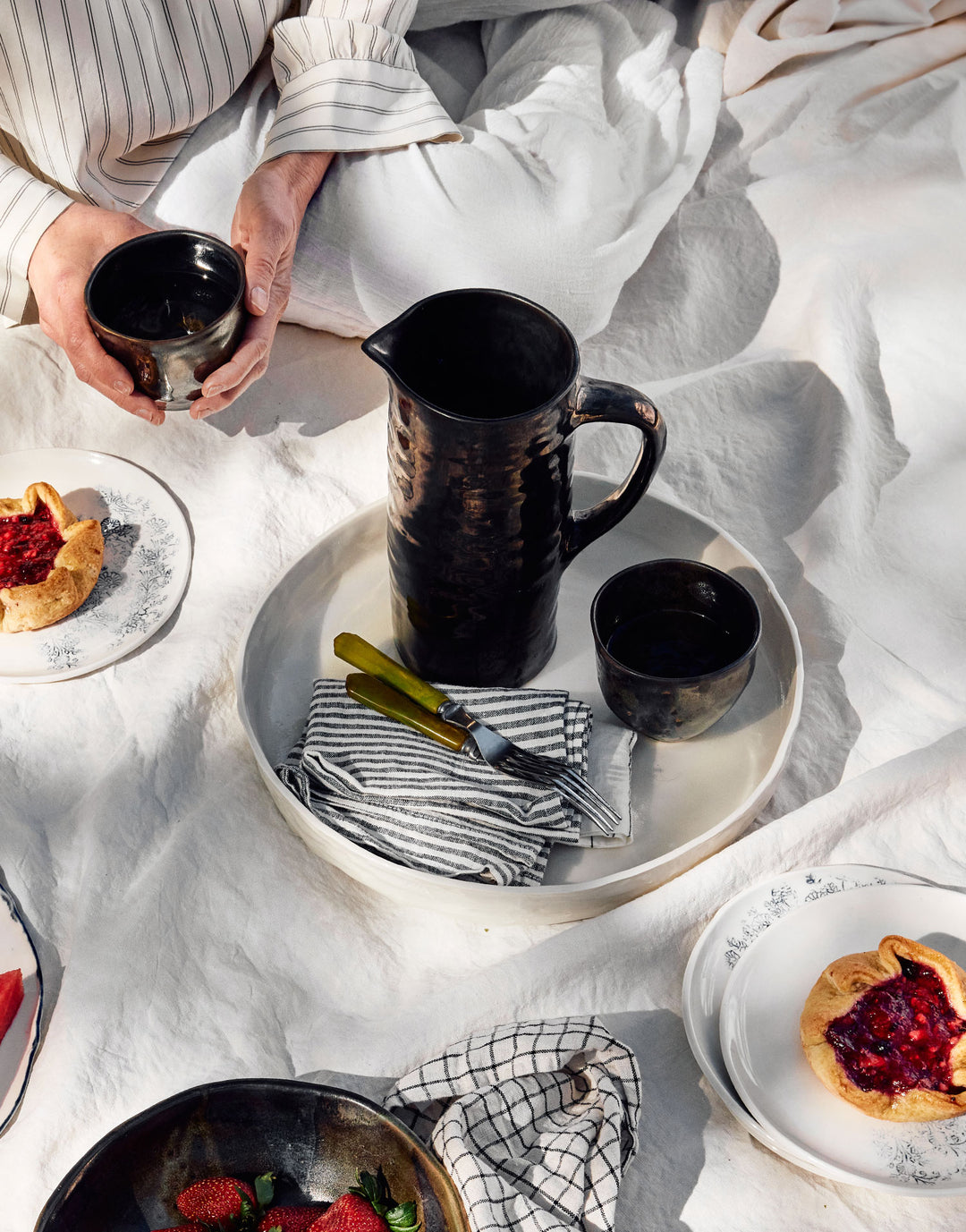 Picnic
Regular price
$ 1,210
/
Free shipping on orders $200+
Discount cooked into every set
4 - 8 week production time
Free shipping on orders $200+
This Set Includes:
6x Kashmir Salad Plates (8")
2x Wabi Tea Bowls in Granite (3.25"d x 4"h)
1x Formale Small Platter in Indigo (11.5" x 9" x 1")
1x Stucco Serving Bowl (13" d x 2.25"h)
1x Stucco Salad Bowl (10.5"d x 4" h)
1x Wabi Ramen Bowl in Granite (9"d x 3"h)
1x Bare Pitcher in Mussel (4.5"d x 9.5"h)
*Sizes are approximate, as each piece is made by hand and there will be variation
Welcome to my world of laid-back luxury and the perfect picnic-inspired tableware set. Picture yourself surrounded by nature, enjoying a leisurely meal with loved ones, and savoring every moment. This set includes versatile serving pieces and six of our best selling Kashmir 8" plates. I've combined texture and color to add rustic yet refined charm to your gatherings.
Beyond picnics, this curated set is designed to be your go-to for countless occasions with serving pieces and plates that are multi-taskers. Imagine hosting intimate dinners at home or having casual lunches with friends, indulging in the rustic elegance of tableware handmade especially for you. Their versatile design seamlessly blends into both formal and relaxed settings, making every meal feel like a special occasion.
Enjoy
- Dana
Each set is made to order (with our four hands) and will take between 4 - 8 weeks to ship, depending on the quantity of sets ordered and our current production schedule.
Email us at info@dbohome.com for information about our current wait time, or for any other questions before ordering.
Each piece is made one at a time. The process we use for most pieces is called hand building. We roll out our high quality porcelain into thin (but not too thin) slabs. The canvas material they are rolled with leaves a subtle texture on the bottom, while we smooth the top. Then, depending on your choice of pattern (or no pattern in the case of our Bare Collection), we add the texture. The slabs are cut and formed either by hand for the plates or over plaster hump molds for the bowls and left to dry until they are leather hard. They are hand trimmed and sponged for a fine finish. When bone dry they have their first firing. We glaze each piece and fire again to over 2200 degrees.
For our Wabi pieces, the original shapes were formed as solid sculptures then cast into plaster molds. Porcelain slip is hand poured into the molds to make each piece, then trimmed and finished. After the first firing (called ,bisque fire) the plates and bowls are glazed using a dip and pour technique making each piece unique.
Voila! One of a kind plates and bowls where you can not only see but feel the artist's hand are now ready to be sanded, cleaned, wrapped and packed - just for you.
Our ceramics are handcrafted from durable, high quality porcelain. 
Our glazes are food safe and lead free
. Our porcelain pieces are dishwasher and safe except where noted in their descriptions. For example, our bronze glaze should not be put in the microwave and this is noted in product descriptions of bronze glazed items. Although all of our pieces are dishwasher safe, hand washing will prolong the life cycle of your pottery. Dirt, stains, and metal marks from silverware (due to the ceramic being harder than the metal) particularly on our matte and semi-matte glazes, can be removed with Bar Keeper's Friend, Mr. Clean Magic Eraser, or baking soda mixed with a bit of warm water. Our tableware can be warmed in the oven but do not expose the wares to dramatic shifts in temperature – e.g. do not put hot from the oven pieces into the refrigerator or from the freezer into a hot oven- allow for gradual change in temperature. Do not place over an open flame.
Though we do have some stock in the studio, most items are made to order. Please allow 15 business days to ship. Larger orders may take longer. If your order will take longer than 15 business days we will send you an email providing an estimated ship date. Please note that some items (for example, lamps and dinnerware sets) include special production times in their descriptions.
We ship all of our products within the Continental United States from our studio in Sharon, CT via UPS Ground. Your order should arrive to you within 2-8 business days from the day it ships depending on your proximity to our studio. Once your order is shipped we will provide you with a tracking number via e-mail. All orders ship Monday through Friday.
We accept returns for exchange or store credit only.  Because all of our pieces are made by hand there will be slight imperfections and variations that we do not see as flaws, but instead make our products uniquely ours. All of the items made at DBO HOME are inspected for defects before they are shipped out. It is important to us that our customers are happy with our products. If you are not satisfied with your purchase we will work to find you a perfect replacement or issue you a store credit.  Custom items are final sale.